In Memory of a Former Panther Employee and a Dear Friend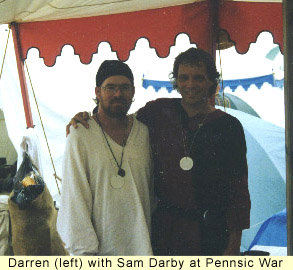 In 1996, our office supervisor told me she had hired a man who had retired from the army after being in the Gulf War. She said he had a disease that affected his hand. As his health got worse, we found out that he had ALS, better known as Lou Gehrig's disease (a fact that he had told her when he was hired). He had become a a valued employee in charge of customer service.
He had to quit work but he started travelling to shows with Sam and I and our two boys for over a year. He was having a lot of trouble walking and using his arms. He still insisted on helping us set up the tent and unload the merchandise, even though he could barely walk. He was a lot of help waiting on customers. He'd work 16 hours a day in the store if we'd let him. Many of you may remember seeing him in the store.
On September 16th, 1999 Darren died soon after a group of us had gone to visit him from the NMLRA Eastern Rendezvous.
We learned a lot from Darren and we miss him dearly. What had the most impact was the fact that he never complained. While we were all complaining that it was too hot, too cold, or too wet, he was telling us about how happy he was that he had just sold a wedge tent. He had more to complain about than most of us. We could all learn from Darren's example.
For information about ALS, click on
ALS Association
ALS Therapy Development Assoc.


| Medieval Pavilions & Tentage | Military Tents |
| Fur Trade Tents | Scouting Tents | Tipis | Other Products |
| Home Page | About Us | What's New | Our Products | Order Catalog |
| Web Links | Web Sale | In Memory of Darren | FAQ | Contact Us |

Copyright © 1999-2001 Panther Primitives. All rights reserved.
Web site by Blue Cat Design.